6 Dishes & Beverages you should try if you're in Rocky Point For December/January Holiday
"Fiestas Decembrinas" or "Christmas Season" is one of the top Mexican celebrations

It includes the next celebrations: Virgin Guadalupe's Birthday (Dec 12th), Christmas (Dec 25th), NYE (Dec 31st) and Reyes Magos Epiphany Day (Jan 6th)

These celebrations start from December 12th to January 7th 

Some foods are especially consumed by Mexicans in this season
Mexican Gastronomy is one of the richest around the globe, and it's not a surprise that on special dates special food is served. Unique flavors and textures are the characteristics of Mexican food, it always amazed everyone.
If you planned to stay in Puerto Peñasco a.k.a. Rocky Point between December 12th to January 7th and you would like to be engaged by the Mexican Culture, then you should try at least one of the next dishes. 
Tamales
Are made by 3 essential components, Masa: It's made from grounded corn.  Filling: It could be chicken, beef, pork; marinated in salsa or mole, and vegetables like carrots, potatoes or olive. Wrapper: The corn husks are the key here, it works as a bag which wrapped the filled masa to protect them and allows it to be cocked in a steamer pot
Pozole / Menudo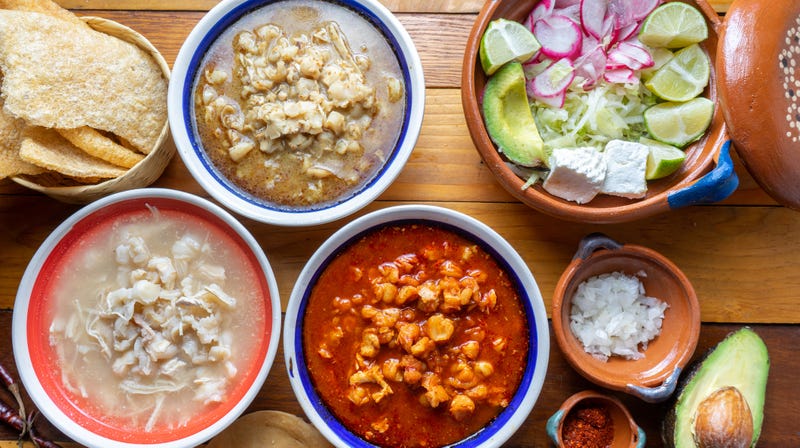 Both are iconic dishes in Mexican culture, they are prepared most of the time in special occasions due to the time-consuming preparation, but you can find them in restaurants on weekends, they are similar but a little different at the same time

The differences between them are especially the meat, while Pozole is made with pork, Menudo has as primary ingredient beef tripe and has less hominy than Pozole.
Of course, there are many variations in the recipe from one family to another family, you can find 3 essential variations defined by the Mexican Flag's Colors, red (infused with spice), white and green (with green vegetables like Tomatillo, Jalapeño pepper, and Coriander)

They are served with toppings like white onions, cabbage, radish, lemon, sauce, chips, and oregano
Buñuelos
It's a traditional dessert usually served with a hot drink like Champurrado or Ponche, composed by a thin and sweet fried flour tortilla, dusted with cinnamon sugar, which is the perfect combination for these cold weather days.
Rosca de Reyes
It's part of a religious tradition, which it's celebrated the 6th of January, this is the day in which the 3 Kings of the East (Reyes Magos) found the king of the jews also known as Jesus, this event is called Epiphany and that is what this bread in the form of a ring represents. 
It's made of sweet bread, with candied fruit on top, and a figurine of a plastic baby inside, the tradition says that if you are the lucky one who has the plastic baby in his piece of bread, you should provide Tamales for all of the people who are eating Rosca with you at that moment, the Tamales will be shared on another religious celebration called "Día de la Candelaria" (Candlemas in English) which is celebrated on February 2nd
Champurrado

A Mayas & Aztecs traditional beverage, it's a corn-based warm drink with chocolate, which it could be prepared either with masa de maíz (lime-treated-corn dough), masa flour(a dried version of this dough), or cornflour (simply very finely ground dried corn, piloncillo; water or milk; and occasionally containing cinnamon, anise seed, or vanilla
Ponche Navideño

The punch is not an exclusively Mexican drink, it was introduced by Spain; in other countries, it is also taken at this time of the year, although in the case of Mexico some ingredients originating from here were adapted to the "standard" recipe.
The ingredients and fruits of the punch vary in each region, there are more than 100 recipes throughout Mexico, where the most common are: piloncillo, sugar cane, prune, apple, cinnamon, piloncillo, tejocote, guava, tamarind, and hibiscus Flower.
Try them! 
Most of the dishes and beverages mentioned above can be founded in Rocky Point easily. Here at Laguna Shores Resort, we have our Restaurant Infusion del Golfo which  is under the management of our Executive Chef Tony Acuña, the Restaurant it's open to the public, so if you're in Rocky Point but not hosted in our Resort, you can come and try the Season's Gastronomy.
For more Information call FROM US 1 (800) 513 1426 Ext. 400 |  FROM MX (638) 383 0210 Ext. 400